Now offered at New Skin Medical Spa in Augusta, Ga. Target fat and build muscle. 2 therapies in a single treatment.
Fact is exercise and eating healthy may not be enough!
When it comes down to it, exercise and a good diet aren't always enough to reach our body goals. Genetics and age play a huge role in addressing problem areas.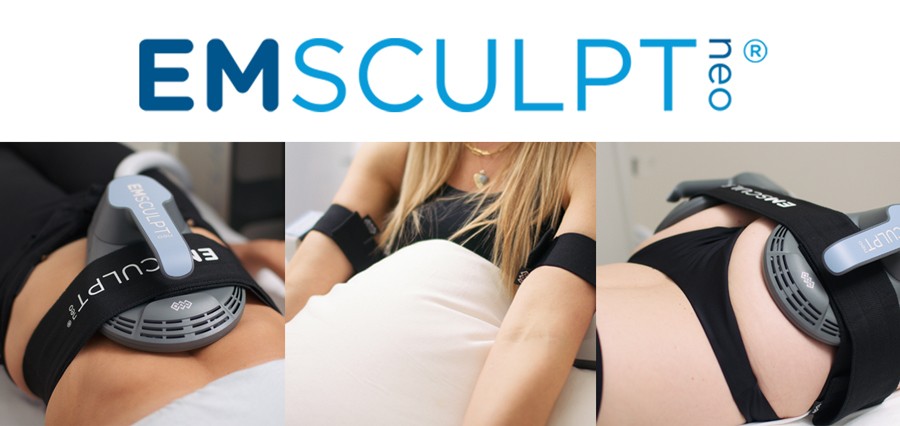 What are your body goals?
Are you working your hardest to address fat reduction and tone muscles but still have yet to see the results you want? Meet EMSCULPT NEO, the only FDA approved non-invasive body shaping treatment that offers two therapies in a single treatment session per area. Dr. James Sherman is now offering EMSculpt NEO at New Skin Medical Spa in Augusta, Georgia.
EMSCULPT NEO Body Shaping
EMSCULPT NEO is the new and improved version built on the original already succesful EMSCULPT platform. EMSCULPT NEO has had astonishing results targeting difficult areas in just a few sessions! Dr. Sherman chose this nonsurgical body shaping device because patients around the US are raving about their results! Target fat and build muscle in 30-minutes per session and see optimal results in as little as six sessions. Results vary and depend on various factors including starting BMI, age, gender, and area treated.
Experience sculpted muscle definition and a toned physique!
What is EMSCULPT NEO?
EMSCULPT Neo utilizes high-intensity focused electromagnetic technology and radiofrequency to build & define muscles and stimulate fat reduction.
Two Therapies In One Treatment
We can address problems areas such as:
Abs
Buttocks
Thighs
Arms
CALVES
Why are patients excited about EMSCULPT NEO Body Shaping?
Because EMSCULPT NEO has endured seven clinical case studies that showed that the patients consistently experienced 25% more muscle and 30% less fat on average.
The benefits of the EMSCULPT NEO include:
Builds Muscle
Reduces Fat
Non-Invasive
Short 30 min Sessions
Not Pain-Full
No Downtime
Affordable
Treats ABS, Arms, Thighs, Buttocks, Calves
EMSculpt NEO Technology Stands Apart From The Rest!
The EMSCULPT NEO system employs multiple applicators to address problem areas simultaneously. This unique device emits radiofrequency and high-intensity focused electromagnetic technology(HIFEM).
The radiofrequency heats the muscle slowly, just a few degrees at a time. This better prepares the muscle for the session, similar to a pre-workout warm-up. The temperature continues to rise until the fat reaches a level that induces apoptosis(cellular death). In turn, the fat cells become permanently damaged and gradually leave the body.
The high-intensity focused electromagnetic technology contracts the fibers within the muscle with different intensities. The extreme stress pressures the muscles to modify, stimulating muscular and cellular growth.
TREATMENTS TAKE ONLY 30 MINUTES
Commonly Asked Questions
What makes the EMSCULPT NEO different?
EMSCULPT NEO is the first nonsurgical body shaping treatment to offer fat elimination and muscle toning in 30 minutes!
Am I A Good Candidate?
If you want to target fat and gain more muscle tone, EMSCULPT NEO could be the right option for you. First, we must determine if there are any medical conditions that would prohibit you from having the treatments. Book a consultation with Dr. Sherman at New Skin Medical Spa to learn more.
What areas does EMSCULPT NEO treat?
Treat the abdomen, buttocks, arms, thighs & calves.
Does EMSCULPT NEO really work?
EMSculpt has endured seven clinical studies that consistently resulted in fat reduction and muscle definition. Overall, patients saw an average of
twenty-five percent more muscle and thirty percent less fat. Also, HIFEM Technology has been the most intensively researched body contouring device since its introduction in 2018 with over 30 different article publications.
What does the EMSCULPT NEO session feel like?
Dr. Sherman tried the treatment out himself to better understand what his patients would be enduring. "The applicators contract the muscle, and the feeling is intense but not painful. The radiofrequency heating simulates the sensation of a hot stone massage. Again it's not painful, but your body is getting a workout, and you can feel it."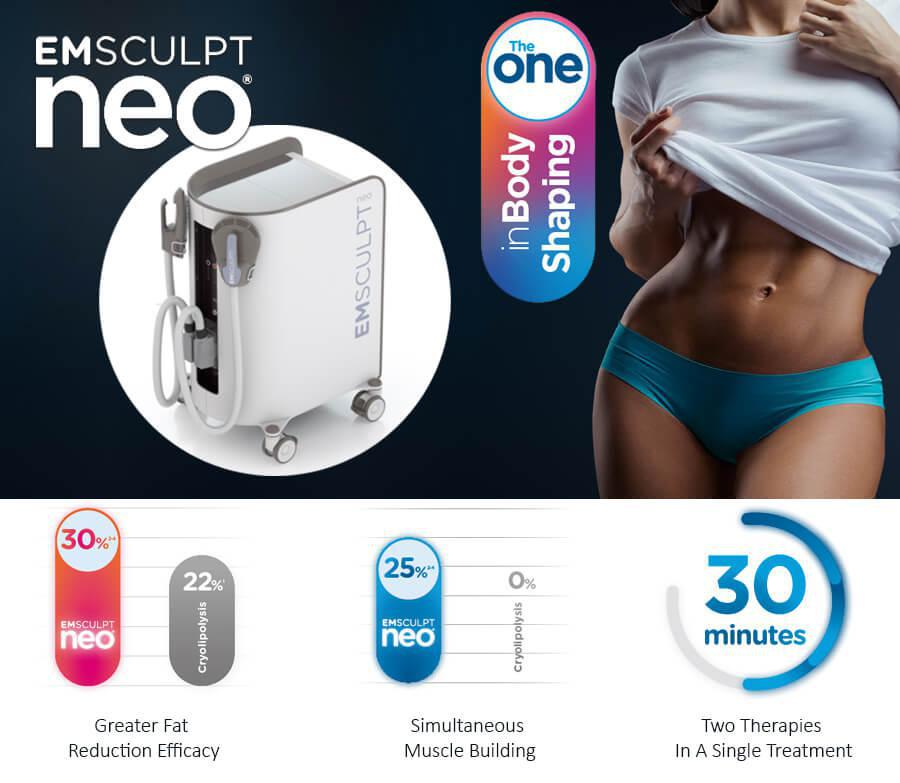 Learn if EMSCULPT NEO Body Shaping is right for you!
Give our office a call today at 706-702-1216 and book your consultation in Augusta, Georgia. We will discuss your body goals and the best treatment plan to fit your needs.