Experience the latests Med-Spa Treatments at New Skin Medical Spa in Augusta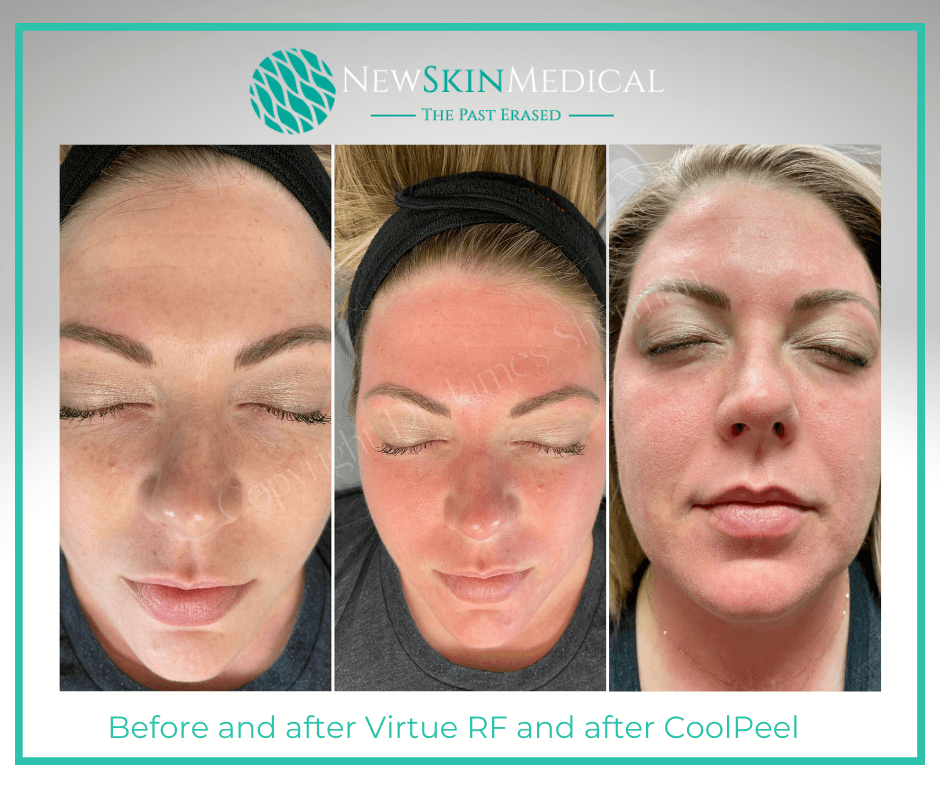 The patient featured here was treated with Virtue RF immediately followed by a CoolPeel Laser Treatment. The 1st side by side picture is before and immediately after the Virtue RF Micro-needling Treatment, and the last picture is immediately after Virtue RF and CoolPeel Laser. As you can see the redness is much reduced after both procedures.
*Treatments performed by our amazing esthetician Sarah – Real patient Copyright Dr. James Sherman
EXPERIENCE THE FRANZ SKIN CARE MICRO-CURRENT MASK TO SOOTHE SKIN
We offer a fabulous Micro-Current After Care Mask by Franz Skin Care. This mask will take post treatment redness and sunburn feeling down to a minimum. Our esthetician Sarah also loves for her patients to purchase SkinBetter Science's Alto Defense Serum for better results afterwards. Caution – you have to wait to use any products for several days after CoolPeel. Ask our esthetician Sarah how many days you should wait.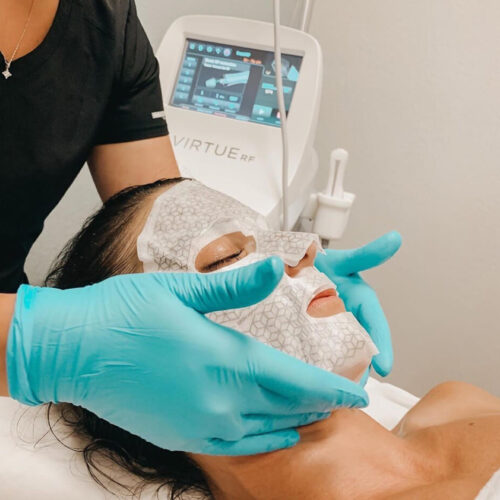 NO SOCIAL DOWNTIME TO SPEAK OF WITH VIRTUE RF AND COOLPEEL!!
Though adding the CoolPeel to the Virtue RF procedure will yield better results, it will require a bit more healing than with just the Virtue RF. Your skin will feel tight and maybe even swell a bit initially, but no worries this will subside within a day or two. Expect a feeling of dryness and possibly some peeling within 3-5 days after the procedures. Everyone's skin responds a bit different, but the good news is that you can wear mineral based makeup just a few days after the procedure to cover redness and evidence of the procedure. Other than dryness, redness and a bit of swelling there is no social downtime to speak of. Especially now that we have all been conditioned to wear less makeup and masks. You can expect amazing results and glowing skin within less than 2 weeks after the procedures on average.
Patients tell us that random people ask them about their skin that it looks amazing. Uneven skin tone will be much improved after as little as one treatment. This treatment combo will help to keep breakouts at bay, reduce fine lines, minimize pores, tighten skin, and assure a more plump and refreshed look. 3 treatments spaced out 4-6 weeks apart are the recommendations for patients with average skin looking for long lasting results. If you are seeking treatment for scars on the body or face, acne scars, enlarged pores, deep wrinkles, dark spots, and/or sun damage, Dr. Sherman and team may recommend 4-6 treatments versus 3. Growth Factor Serums and Platelet Rich Plasma can also be added for even better results. ASK ABOUT PACKAGE DEALS
Call 706-702-1216 to book a consultation with Sarah, Melissa, or Dr. Sherman, or request the Virtue RF and CoolPeel treatment at New Skin Medical Spa in Augusta, by submitting the online form below.